September is coming - and so is summer!
Looks like some good weather at last- high pressure is set to dominate for the first 8-10 days of September - maybe it is our "Indian Summer" - godness knows we deserve it! So we have plenty of action afloat for the month of September starting with a really intersting dinghy sailing event next Saturday.
Next Saturday is the first of September and we have a very important dinghy race taking place. This is the "Ballinacurra Cup" which was presented by the Irish Naval Service to Cove Sailing Club in 1947. It is be competed for by dinghies racing from Cobh to the eastern end of the harbour and then up the Owenacurra River to Ballinacurra village. Ballinacurra was a very important port for exporting malting barley - now it is a quiet backwater on the north eastern corner of Cork Harbour.
It is a very scenic trip with the upper reaches of Cork Harbour looking their prettiest at this time of year. SailCork will be competing aboard the Raider 18 "Yomkon" with a crew of adults and the junior sailors will compete on "Kanko" and our "Vision". All the crews moor up at the historic quays and make their way to "Jacko's" "Brooklands Bar" - called after the last schooner to trade out of Cork Harbour. There is always a great party ashore where everybody is made feel very welcome by Nina - whose father "Jacko" Creenan was the last harbour master at Ballinacurra.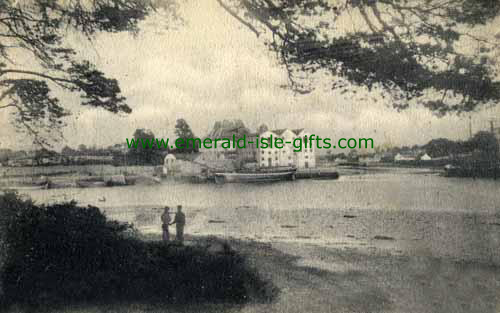 The Ballinacurra Cup is one of the oldest "all in" dinghy handicap trophies. There is also a race to Ballinacurra in the late spring and there is no better place to retire to on a high water in a winters day when it is cold afloat! SailCork visit Ballinacurra on a regular basis with their junior sailors on a day trip and with adult kayakers. If you live in the Midleton area be sure to call to Ballinacurra to see the boats which will start arriving at about five and will stay for a couple of hours.
SailCork will be afloat aboard our cruiser "Holy Grounder" - she will be doing day sails and competing in the Naval race on Sat 8. The "Naval Race" began as just a visit by yachtsmen to the birthplace of the Royal Cork Yacht Club in 1720 - Haulbowline. It turned into a fully fledged race 20 years ago is is a great day afloat - racing begins in Crosshaven and a course is set around Cork Harbour finishing at Haulbowline Island opposite Cobh. It is a great opportunity to see the home of the Irish Naval Service and the history is palpable on the island. SailCork will be taking part aboard the "Holy Grounder".
We head abroad in the "Holy Grounder" on Sunday Sep 9 for a fantastic cruise to those wonderful islands just 30 miles south west of Land's End in Cornwall - the Isles of Scilly.
Sept 9-14 - Mile builder : Scilly Isles Cruise Enjoy learning on an offshore passage and cruise the magic islands - 300 miles there and back...........a great experience and great fun!!
On Saturday Sep 15 we have the annual pilgrimage from Cobh to Cork. Most dinghies and cruisers will be taking part in the Cobh to Blackrock race and there will be a fleet of spectators also joining in the fun. The boats will start in Cobh from Midday on and weave their way 7 miles up the river Lee past Monkstown, Passage and Little Island before eventually arriving at Blackrock to finish this great race. It is an amazing spectacle with up to 100 boats taking part and it brings a special life to the River Lee - the sight is good from the shore but even better if you are taking part! Places will be available aboard "Holy Grounder" for those who wish to learn about yacht racing and adult dinghy places will be available as well as juniors. We will also be offering a special "Powerboat Explore Cork Harbour Day".
The boats will then make their to the new Cork City Marina where the fun should begin there from two o clock with crews berthing and arriving ashore. The Port of Cork Ciry Marina was opened in 2010 and has proved a fantastic hit with boating enthusiasts. SailCork have always been regular visitors to Cork aboard cruising yachts and powerboats. We intend to run several autumn cruises to Cork this year.The "Blackrock Race" is a classic and SailCork is offering places on dinghies, cruisers and powerboats to enjoy this great day out!
For us in SailCork September is a major crossroads as the juniors all go back to school. We run Saturday Sailing and this year we are offering short sessions on Wednesday afternoons. During the summer months may a firm friendship is made - this is a great way for juniors to get together with their friends from the summer. Our programme includes sailing, powerboating, kayaking, yachting, navigation, oreinteering, team challenges....and lots more. We have a progressive learning scheme enabling sailors to progress through the off season months to become great all round sailors!! We have a special package available if you book 7 days (or half days) - contact Jo or Shirley on 021 4811237.
We also have a programme for transition year pupils. Our cruiser will be busy with Day sails and racing at weekends as well as some special courses including TY programmes, Day Skipper, Coastal Skipper, Yachtmaster and ICC assessments. We begin our theory classes with a one day VHF course at the end of September and our evening introduction to navigation classes begin at the middle of the month. Some of our more comprehensive navigation courses run right through until the end of February but we will be kept busy at weekends with Powerboat Courses, Instructor Courses, Cruiser Courses and Navigation Courses.
Our next Powerboat Course is on the weekend of Sep 22-23. This 2 day course is very comprehensive and covers all your needs for driving a powerboat - the course finishes off with a 20 mile tour of Cork Harbour.
We attend Southampton Boat Show on the week of Sep 17 and for us the highlight of September is when we have our annual Sunshine Cruise to Croatia before we are run off our feet with classes ashore and afloat. We also have to find time for our maintenance programme which is ongoing and a very crucial part of our operation! During the autumn we will also be involved in training professionals afloat running powerboat courses for industrial plants which have water frontage, training and getting qualifications for angling and workboat drivers, naval personnel, yacht club boat drivers and a host of others.
Please call Jo or Shirley if you want any information on booking onto any of the courses mentioned above - 021 4811237