SailCork Caribbean Cruise 2013 - St. Vincent and the Grenadines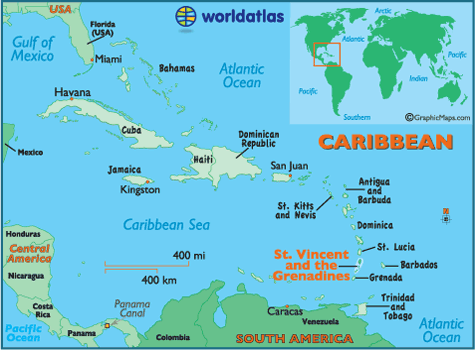 The Irish winter is long and dreary and a Caribbean Sailing Holiday is the perfect escape! SailCork have been providing Sunshine Sailing Holidays for the last 10 years and this year SailCork moved over 300 miles further south for the SailCork Caribbean Cruise from the British Virgin Islands to St. Vincent and the Grenadines in the Windward Islands - just over 100 miles NNE of the South American continent.
On paper it looked like a much more exciting sailing area - and it was! Trade wind sailing in wall to wall sunshine and 30 islands (8 of them inhabited) to explore. The island cluster extends just less than 40 miles SSW from the southern tip of St. Vincent.
We hoped to sail some 100 miles and visit nearly a dozen islands. Less developed than the British Virgin Islands or any of our prior cruising grounds St. Vincent and the Grenadines offered more of the REAL Caribbean where we could connect with the locals and enjoy more of the Caribbean way of life!
Having flown from Ireland via the UK and Barbados the crew landed in St. Vincent on Sat 23 February. St. Vincent is the largest island in the group measuring some 15 x 10 miles and our charter base is at the Blue Lagoon on the southern tip of the island just 20 minutes from the airport and 30 mins from the capital Kingstown.
St. Vincent is a very green island and agriculture (especially banana production) is very important to the population of 120,000 (all the islands). Tourism is of importance but less so than the highly developed nearby tourist islands of Barbados and St. Lucia - the resorts in SVG (St. Vincent and the Grenadines) are small and nicely built and blend into the landscape. The people are very friendly and of course the weather is fantastic - 25-30 degrees with the wind between NE and ESE blowing from 15-25 knots - perfect for the perfect sailing holiday!
Saturday Feb 23 Blue Lagoon St. Vincent to Admiralty Bay Bequia- 9 Miles The Barefoot Charter base at the Blue Lagoon is set in lush grounds overlooking the bay. The "Driftwood Restaurant" does excellent food and the crew relaxed at breakfast while I checked out the boat - a Jeanneau 43 Deck Saloon "Dolce Vita". She was bright and spacious with comfortable accommodation - perfect for the 8 of us! (we coud have done with a sailing ship as there was a waiting list of 4 people!) Once we adjusted to "Caribbean Time" (things move s l o w l y here!) we relaxed and departed for Bequia (some 9 miles SSW) after lunch. We had a lovely broad reach and sailed into Admiralty Bay in the late afternoon - what a fantastic sight- there were dozens of boats moored there and following the advice of Philip form Barefoot we anchored off Princess Margaret Beach - a short dinghy ride from the main town of Port Elizabeth.
After a great swim and a quick drink aboard we headed ashore to explore Port Elizabeth - which is built around the inner NE corner of Admiralty Bay. Lively bars and restaurants line the shore with dinghy docks to make access easier. We had a good look around and got some provisions before setting up HQ at the "New York Bar". On local recommendation we got a taxi (truck) up the hill to the "Sugar Hill Restaurant". As we alighted the truck the music wafted towards us in the evening air and we headed for a Bequian feast! Our first real taste of Grenadine hospitality - and boy were we looked after!!
Top of the list for everybody on the menu was LOBSTER (this is the spiny lobster - like the Irish crayfish) - we were to see LOTS of lobster for this trip. (Menu prices in EC dollars!) Our meal finished with 2 local guitarists joining us in singing Irish ballads!! We sang our way down the hill in the back of the truck and then back to the dinghy. Our way to "Dolce Vita" was lit by Sean - our leading light man! A fantastic first night in SVG!!!
Sunday 24 Feb Bequia - Petit Nevis - Grand Bay Canouan- 24 Miles Early start for a swim and get a crew ashore to go to the market for fresh supplies. Our hostess Jo was accompanied ashore by retail expert Dermot and chief negotiator Cormac ...... all their skills were needed to combat the guile of the PRESIDENT at the market!! Once supplies were aboard we headed out of Admiralty Bay to our breakfast anchorage at Petit Nevis some 6 nautical miles away..just off the south coast of Bequia and once the home of a whaling station. We didn't see any whales but the Bequians have permission to hunt a whale each year using traditional boats. After another swim and a breakfast with at least 6 fruits (Ita was our chief fruitier!) we set sail for Canouan 18 miles to the SSW - we had a great sail and moored just off the beach in Grand Bay - perfect for more swimming and sunbathing!
The beach was perfect for swimming or better again for sun worshipping as Finola ably demonstrated. We procured some excellent local lobster to extend our menu for our evening meal and welcomed aboard our final crew member, Liam, who flew directly to Canouan (and who was in charge of keeping a smile/smirk on our faces for the week!) - We had a fantastic meal and felt snug and secure on our moorings for the night!
Monday 25 Feb Canouan - Tobago Cays- 8 Miles Another early start as we were anxious to spend a long day and night at the world famous Tobago Cays - we had a cracking 90 minute sail through the reefs and arrived at the Cays to be greeted by a flotilla of "Boat Boys" - Carlos guided us to a moorings and arranged (negotiated!) a programme with the skipper - including a lobster dinner on the beach! As we settled into our mooring "Mr Quality" came alongside in his mobile market - including a selection of hundreds of smashing t-shirts - we purchased some and he and other "boat boys" organised ice, beer and other vital supplies!

Having settled in we completed the morning with swimming with turtles. After a sumptious lunch Carlos (the boat boy) collected us and brought us in his boat past the bigger islands, through the reef to the outermost island on the edge of the Atlantic - Petit Tabac. This is your genuine Robinson Crusoe Island - palm fringed sandy beaches on one side and a reef on the other. This was a special piece of heaven! Here there was a very special feeling strolling along the golden beach - one could feel that connection with your inner self!
Carlos came back and collected us and brought us to our boat to change and have a beer before collecting us and bringing us to the island of Petit Bateau for our feast ashore! Our table was set up among the palm trees at the beach and the barbecue was in full swing - one of Carlos's team disappeared into the greenery and produced beer, wine and rum! We had a feast of lobster followed by a singing competition with a group of French sailors - naturally we won!! We headed back to the boat under the star filled sky and were lulled to sleep by the gentle motion of "Dolce Vita" on here moorings.
Tuesday 26 Feb Tobago Cays - Petit St. Vincent - Petit Martinique - Clifton Union Island - 15 Miles Another beautiful morning! We set sail through the reefs towards Palm Island on then on to Petit St Vincent where we anchored for breakfast and some swimming and snorkelling before upping anchor to head across the channel (half a mile) to a new country - the island of Petit Martinique in Grenada. This island seems to have special status having no customs, police or any other officials - hence certain commodities tend to be less expensive! It also meant that we could enter the country without any formalities. We pulled alongside to get water and some provisions before heading off again to Union Island.
We sailed into Clifton Harbour which is well protected by a big reef and is the biggest and busiest port in the southern Grenadines. Due to its volcanic silhouette, Union Island is also called the Tahiti of the West Indies. The island is approximately 3 miles long and 1 mile wide with a population of 3,000 most of whom live in Clifton. Clifton is a lively place with a market, several hotels, restaurants, bars and shops but the pace of life is decidedly slow. We had a great day ashore interacting with the locals before heading for sundowners on "Happy Island". This is an amazing place built on a bed of conch shells on the reef with a very HAPPY atmosphere! We enjoyed excellent cocktails from Janti before going ashore for a meal and the "Jump Up" with the local steel band - another great day!!
Wednesday 27 Feb Union Island - Palm Island - Saltwhistle Bay Mayreau - 6 Miles We started with a short sail of one mile to anchor off the fantastic beach on Palm Island. Perfect for our morning swim and we were anchored in the right place to see motor boats, ferries and local sailboats coming and going. Our sail for today was to be a short one - a super four mile reach across to Saltwhistle Bay in Mayreau. Mayreau is the smallest of the inhabited islands in the Grenadines with just 200 inhabitants - and one of the best beaches in the world at Saltwhishistle Bay.
We moored just 20 metres off the palm fringed golden beach in calm waters - prefect for swimming and snorkelling ...........and ashore a choice of waterside bars and t-shirt shops. We had the perfect day just "limin" (hanging around). We got a taxi (truck) up the hill to the 'village" for our evenings entertainment. We alighted outside "Robert Righteous and de Youths Bar and Seafood Restaurant" - and sure enough rastaman Robert was at the door to greet us. The pace of life is even slower that the other islands here! When we were informed that there was no conch or lobster available and said we were moving the bould Robert appeared again and said he would look after us.......... immediately staff were dispatched to other places around the village returning with black plastic bags - we had some great lobster for dinner!!
Thursday 28 Feb Mayreau - Canouan - Admiralty Bay Bequia - 27 Miles We delayed our 06:00 departure to wait for the rain to clear and at 07:00 we departed this idyllic island and headed upwind to Canouan for breakfast where we anchored off the west coast in a small cove. The rain cleared and we had a calm 20mile upwind crossing to Bequia - (Bequia - it is so nice you go twice - according to the President at the market in Port Elizabeth). We anchored off Princess Margaret Beach again and had a fantastic swim after an excellent lunch aboard. We got ice and water from the triamaran operated by Daffodil Marine Services.
We organised for DeeDee to come in a water taxi to collect us and got dropped at Belmont Walkway where we dropped into the "Whaleboner" (lots of whalebones in decor here!) for cocktails and fruit juices. We headed uptown for some shopping and a visit to the market to see the "President" and to buy some fruit. We returned to the "New York bar" where we got a great welcome and had another great singing session! We were getting hungry so returned to the waterfront to" Frangipani" (called after plumeria flower). We had an amazing buffet and a "Jump Up" with a brilliant steel band before being transported back aboard by DeeDee on her water taxi.
Friday 1 Mar Bequia - Blue Lagoon St. Vincent- 10 Miles After another excellent breakfast from Jo we put to sea for our last sail - back to the base in St. Vincent. We skirted the NW shore of Bequia and waved goodbye to this amazing island before crossing the Bequia Channel to St. Vincent. We had a nice sail and conditions were excellent. On arrival we had to anchor outside the lagoon as it was low tide. (The tidal range is only a maximum of .5 metre but "Dolce Vita" drew over 2 m) After a quick tidy up we went ashore and had an excellent relaxing lunch at "Driftwood" restaurant with a stunning view of the Bay and south towards Bequia in the distance.
After lunch we headed on tour with our entertaining driver Darren - visiting the Mesopotamia Valley and the Montreal Gardens as well as the south east coast of the island. St. Vincent is a very green island where agriculture is of major importance.
In the evening Darren brought us into the capital - Kingstown where we dined in the famous "Basils Bar and Restaurant" in the historic centre of the town. He took us on tour afterwards to see the locals "en Fete" - thronging the streets and dancing and singing to the big BIG boom box music! We headed back to the boat
Saturday 2 March SVG - home! Thousands of miles! A relaxed start, a little later than usual, a little bag packing and a run ashore for an excellent breakfast ashore at "Driftwood" - where the eggs are laid on the premises! Our trusty driver Darren was waiting with a smile to bring us to the airport where we began the long journey back home fueled with dreams of an amazing holiday and thoughts of coming back next year!
Do have a look at some of the photographs of our 2013 Cruise - http://www.flickr.com/photos/sailcork/sets/
A venturesome voyage with a great crew - and a fantastic holiday - roll on the SailCork Caribbean Cruise in St. Vincent and the Grenadines 2014!
Have a look below to routes followed and charts of SVG.
SailCork Caribbean Cruise in St. Vincent and the Grenadines 2014!