Caribbean Sunshine Sailing Holiday
Hello from the Caribbean! A special Hi to anybody in a cold place! We arrived in the British Virgin Islands (BVI's) last Friday night and on Saturday we set sail after briefing + planning, provisioning and boat preparation for our shake down sail to Norman Island (8 miles) in perfect conditions with a little bit of on the wind work with SE 8-12 kn and 27 degrees! After snorkelling at "The Caves" we moored at the "Bight" at Norman Island next to the Willie T- a world famous floating bar – needless to say we didn't leave the Irish down!
We had a 06:30 start the next morning, Sunday,and sailed to Cooper Island for a swim at Marchioneel Bay and breakfast. We continued to"the Baths" on Virgin Gorda –these are a very unusual rock formation with amazing caves and swimming. That evening we headed to the only town on virgin Gorda- Spanish Town and tied up at the marina before going to the "Mineshaft" bar and cafe to see a spectacular sunset on the Francis Drake Channel and to have a great meal there. We were all knackered and returned aboard with most of us in bunk for 21:00.
On Monday morning we departed the marina at 10:00 and sailed to North Sound on the very north of Virgin Gorda. We had a great sail practicing tacking and gybing. On the way we could see Richard Branson's Necker Island and Eustasia Island which used to be run by our friend Niall "Raffs" Rafferty. North Sound is a sheltered area surrounded by islands and reefs of about 8 sq miles. It has many upmarket resorts – the most famous of which is the "Bitter End" where we hired a Hobie Cat and had great fun. We eat aboard (Jo did a really great job as head chef!) and went ashore at Saba Rock for drinks. An absolutely amazing setting – we will definetly be back!
An early start again onTuesday when we sailed off the moorings at 06:45. We had a fantastic sail in 15-23 kn SE with 28 degrees! We sailed thro the Dogs Islands, past Marina Cay and throught the narrow channel between Great and Little Camanoe before going on to anchor at White Bay in Gusan Island for breakfast. We looked at the surf in Campoons Bay before braving the reef to enter
Cane Garden Bay where we had lunch at anchor – we didn't even have a swim there as the swell from the north was huge. We motorsailed across to Sandy Cay where most of the crew swam ashore to this real world desert island with palm trees and waves crashing on to a white sany beach with pelicans diving for fish! We then moved on just a few miles to Great Bay on Jost Van Dyke where we anchored off the beach and came ashore to the famous Foxys bar to write this blog! All the crew joined me for a meal and having returned to the boat the skipper (me!) retired with certain crew members staying up to demolish a bottle of Mount Gay!
We had a leisurely start on Wednesday departing from Great Harbour Jost Van Dyke after 11 to do some tacking and gybing exercises off the south coast. We headed for White Bay finding the big Club Med 2 (the liner with 5 masts and 6 jibs!) anchored off. After entering through the reef we found a spot to anchor to admire the stunning beach lined with bars and restaurants amid the palm trees. After swimming ashore we crossed the beach to the Soggy Dollar Bar ( -see the webcam) we took some soggy dollars and had some "Painkillers" and enjoyed great companywith an American crew from Chicago. (Have a look at a short clip.) In the afternoon we had a beat or about 8 miles in a lovely SSE breeze to get to Soper's Hole in time for Liam to negotiate a marina berth right at the centre of action. This is a fairytale destination with candy striped buildings and friendly staff. We are going to spend the night here, do some shopping and relax.We went ashore for sundowners in the famous "Pussers Landing" for their trademark drink – the painkiller – made with rum …..of course! Jo and her galley crew came out trumps again with an excellent meal aboard. The crew had an early night in preparation for our last day afloat.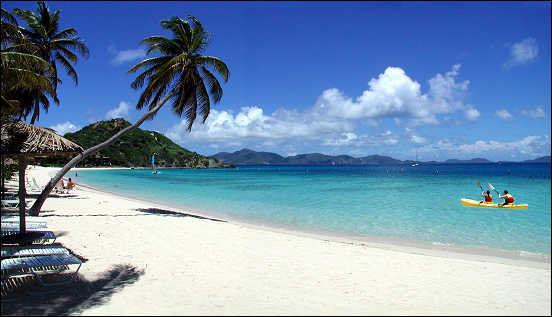 We spent a couple of hours looking around the "West End" or Sopers Hole on Thursdaymorning before sailing to Peter Island and the idyllic anchorage at Deadman Bay where we swam ashore to the "perfect" beach and the exclusive Peter Island resort where we relaxed with the best cocktails of the trip. Another swim and lunch aboard before a sail on the wind back to the base at Wickhams Cay Marina in Roadtown where we cleaned down the boat and did some initial packing in preparation for our long journey home on Friday. We kept the best wine till last – our driver "Maloney" (his great grandad was Irish) brought us to the amazing restaurant at Brandywine Bay. Chef Davide Pugliese cooked us the meal of a lifetime – a suitable end to our fantastic holiday in the BVIs. The evening was finished off in true Irish style aboard our boat "Wind Whisper"!
We had seen Irish and UK forecasts and were well aware of the disasterous weather in Europe and were concerned about our travel plans for Friday. We had a swim at the pool and a great farewell brunch at Charlies and despite delays and freezing conditions Jo and I were back in Cobh sitting by the fire with the kids in 24 hours. Roll on the SailCork BVIs Sunshine Cruise 2011! - (Dec 30 - Jan 8)
If you want to charter a boat you will need a qualification - the most widely accepted is the ICC - Full information here!