A navigation course is about a lot more than navigation!
The evenings are getting shorter, the gales are more frequent - the autumn is definitely here! The "laying up" season has begun for leisure craft as many owners begin to winterise their boats.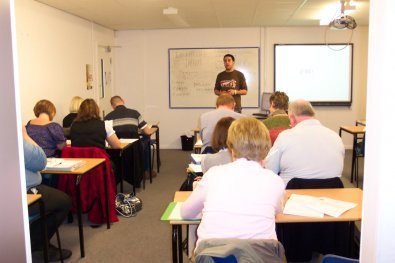 But thoughts of the sea are always with us even on the darkest winter night. Now is the time to prepare for next year afloat and work on our background knowledge. Evening Navigation classes are beginning all over the country - but what exactly are navigation courses?
They are about a lot more than Navigation and include the topics of Safety, Collision Regulations, Meteorology, Tides, the Compass, Lighthouses and buoys, the use of Navigational Publications, Chartwork, Electronic Navigation, Navigation in fog, Pilotage and Passage Planning.
These courses are usually run over about 16 evenings of classes lasting 2-3 hours. It is a great opportunity to learn about navigation and to hear about the experiences of the lecturer or indeed the other members of the class. It is an opportunity to ask all the questions about being safe afloat and to begin to plan for your voyages of the future with total confidence.
There are special courses for complete beginners - the Basic Navigation and Safety Course which is run over just over 4 evenings. By far the most popular course is that intended for the beginner and improver the Day Skipper Navigation Course - this is a full blown course over 16 evenings and graduates should have a good working knowledge of all the subjects I mentioned earlier.
The daddy of them all is the Yachtmaster Shorebased Navigation Course - this is an advanced course for those with plenty of experience and a previous navigation course under their belt. No stone is left unturned on this course and it gives the navigator absolute confidence afloat.
All of the afore mentioned courses are also available over weekends or weeks.
We are all growing more conscious of safety afloat everyday and a growing number of people want proper qualifications to go afloat. The navigation courses are part of this - VHF Radio Courses, First Aid at Sea Courses and more are available ashore with practical courses and examinations afloat.
For my part I am looking forward to my 35th year teaching navigation with SailCork at the RCYC in Crosshaven. First of all a chance for me to revise my practical skills with the annual SailCork Croatia Cruise!
Introduction to Navigation begins at our base in East Ferry Cobh on Mon Oct 15. Day Skipper begins Wed Oct 24 and Yachtmaster begins Thur 25. Both courses will be run in the comfortable surroundings of the Royal Cork Yacht Club in Crosshaven. Call 021 4811237 to book.