Summer is here - at last!
In Ireland we always describe our weather as "contrary"! This may be so but as mariners it is vital for us to know what is coming so we can plan voyages afloat. Marine weather forecasting has become a much more accurate science in recent years and it is very easy for the mariner to get forecasts. We have a great service on TV where a meteorologist explains the forecast (a great way to learn about the weather) RTE 1 broadcasts such a forecast just after 18:50 and again at 21:20 - and don't forget the farming forecast (the weeklong one) at lunchtime on Sundays - great for planning a week afloat. BBC TV forecasts also use meteorologists to give the forecast on a regular basic and also give a weeklong forecast - well worth checking out as another independent source of information.
We have lots of other great sources of forecasts: the Radio (RTE1), Phone(1550133855), Newspaper, Navtex, VHF (announced on 16 at 01:03 and every 3 hrs thereafter), observation and of course the internet - please have a look at the very comprehensive SailCork weather page. (We get hundreds of hits every day - if you have a good weather link that we don't have listed please tell us and we will put it up)
It is vital to get a good forecast before going afloat and to keep abreast of the forecast whilst afloat - I always have a good look at most of the links on our weather site every day and whilst afloat I listen to the VHF and in bigger boats carry my computer with 3G access so I can get full details - on smaller boats I carry my iphone with a host of weather apps and instant access to our weather web page on SailCork.com.
What prompted me to write this blog is the fact that despite a "good" forecast the weather may differ in some locations. Today (Thur May 20 2010) the temperature in Killarney was 24 degrees and at the same time in Cobh it was only 14 degrees. (Later it rose to 19 degrees in Cobh) - Why the difference? Simply because Cobh was blanketed in fog blotting out the sun!
How does fog happen? Sea fog usually happens in the spring when a warm moist southerly wind blows over our south coast which is still relatively cold (and so is the sea) - the warm moist air then cools and condenses - forming fog......... and what will get rid of it? A change in conditions - a change in wind direction - meaning that the cause of the fog (the warm moist air from the south) is no longer there.
Land fog is more common in the winter when after a warm sunny day the air has absorbed moisture ( the warmer the air the more moisture it can hold) and then at night (especially when there is a high pressure system) if there is no blanket of cloud the land gets cold very quickly and cools the air above it condensing it to form fog. In the morning the sun or a breeze will clear land fog.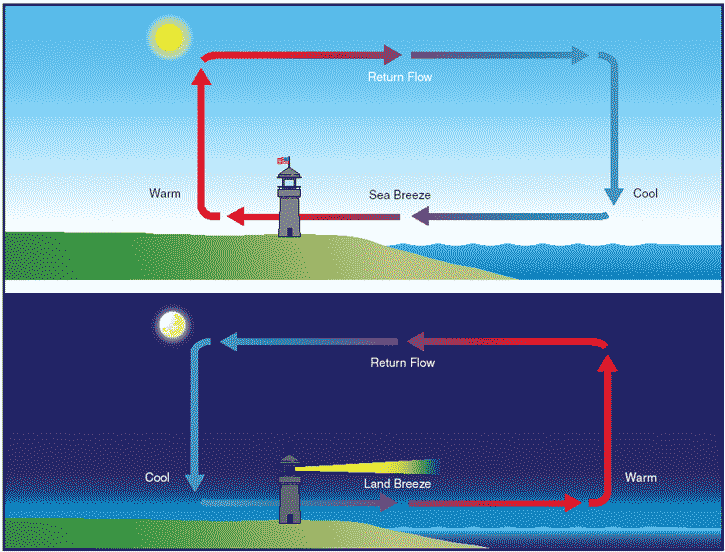 Another local effect we are likely to see more of from now on is the "Sea Breeze" This occurs in coastal areas usually when there is a high pressure sitting over us with a very slack gradient (when the isobars are very far apart) The morning is usually beautiful with not a breath of wind and a glassy surface on the sea. Then in late morning there is the beginnings of an onshore breeze increasing during the afternoon and veering somewhat before dying off in the evening. The simple explanation is that when the sun heats up in the morning it heats the land quicker then the sea (as the land is a better conductor of heat) and the cooler air comes in from the sea to replace the rising warm air. So don't get caught out on that beautiful summers morning - think about the sea breeze - it can come up to 15kn on Irish coasts! (The converse can happen at night when we get a lighter "land breeze")
So roll on the summer and hopefully we will see lots of highs this year!
NOTE: Meteorology is a very important subject matter on all our shorebased navigation courses at SailCork from Basic Navigation through Day Skipper to Yachtmaster. We also run special Meteorology Courses during the winter months.