Coast - Cork Part 2 - West Cork
Sailing on the Cork Coast is a special experience. Today (June 8) "Holy Grounder" - SailCorks trusty Beneteau First 36.7 is sailing from Glandore to the beautiful anchorage of Barlogue for breakfast - then around the Fastnet Rock - into South Harbour on Cape Clear for lunch before going to Baltimore for the evening-- all in all a great days cruise! As mentioned in dispatches SailCork will be doing some day sails and an English Cruise aboard the fantastic Oyster 82 "Zig Zag". ZigZag is today going from Glandore to South Harbour and the Fastnet before retiring to Crookhaven for the evening - all on the amazing Cork Coastline.
SailCork will be doing a one way cruise from Cork Harbour to Baltimore on Jul 25 and then offering a great August Bank Holiday Weekend based in Baltimore and also a chance to participate in the fantastic "Calves Week Regatta" before crossing the "border" on a cruise to Kerry on Aug 6th. We will spend at least another 2 weeks and 4 or 5 weekends in the West Cork area this year
So lots of fun to be had cruising with SailCork this year! Read on for full information on West Cork ... and don't forget to click the links to get full pilotage information courtesy of "In Your Footsteps"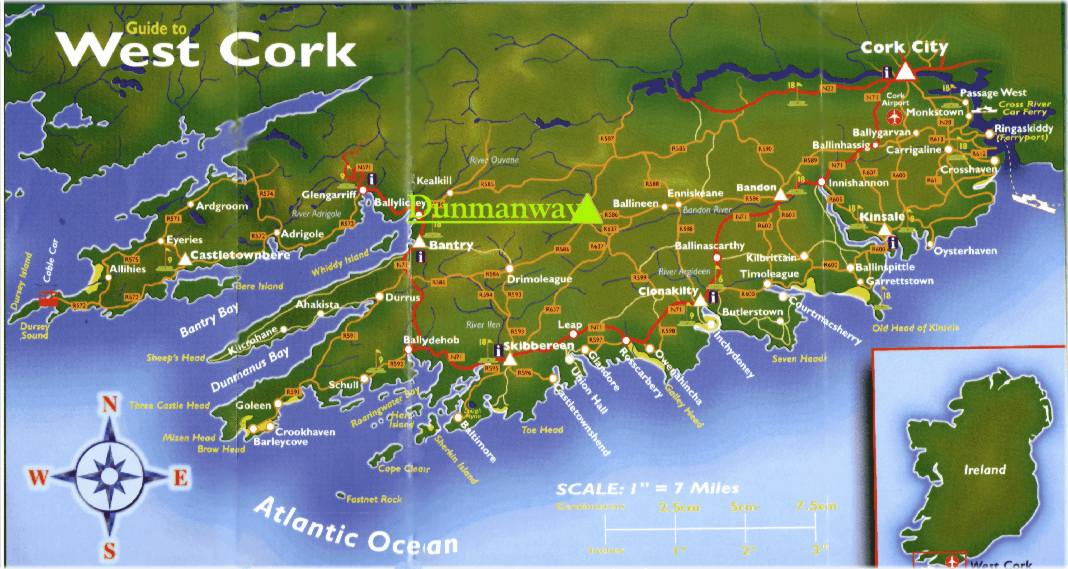 SailCork guide from Old Head of Kinsale to Mizen
See page on Cork Coast from Youghal to Kinsale
Courtmacsherry - A lovely sleepy fishing village on the estuary of the A river. Totally sheltered from the south it has a pontoon for overnighting at the village. Beware of entering if there is any swell near low water as the bar is very shallow. The tide is quite strong too especially a falling tide at springs if there is fresh in the river. There is a lifeboat based in "Courtmac" and there are 3 pubs as well as a hotel. It is a friendly holiday village and also has a small sailing school and good beaches nearby and lovely walks on the Seven Heads peninsula. "In your footsteps" guide.
Glandore and Union Hall. This is a beautiful harbour guarded by the islands Adam and Eve. Glandore has some beautiful big houses, a hotel and three pubs - two of which have a stunning view of the harbour. The pier is tidal but there are county council moorings off the pier. Glandore is open to the south but there is shelter further up the harbour off Union Hall. Union Hall has a fine pier but it is mainly for trawlers - ok to land there but best anchor off in mud and it's not too deep and very sheltered. The village is a real working fishing village and has a great atmosphere - plenty of pubs, a good shop and a few places to eat. See "In Your Footsteps" Guide
Castletownsend: Only a few miles west of Glandore Harbour - past Rabbit Island (mind the Belly Rock) inside Hight and Low Island and the Seal Rocks, past Blind Harbour and then in between Skiddy Island and Horse Island into Castlehaven which has the beautiful town of Castletownsend nestling on the hill about a mile in. It is very picturesque and totally unique - you can really see the English influence on the village. It is famous for Mary Anns pub and smashing restaurant .... and dont forget Lil Mc Carthys up the road - or should I say hill - the village is built on a really steep hill. Anchor off and row ashore to the slip. Interesting church here too - St Barahanes has Harry Clarke stained glass windows. See "In Your Footsteps" Guide
Barlogue: One of the really special anchorages anywhere in the world! This small harbour between the hill and Bullock Island is a little jewel and it leads into the magical Lough Hyne which has an unique marine life as it is a mix of salt and freshwater. You can enter in a dinghy at close on high water and come out with the rapids as the tide begins to fall! See "In Your Footsteps" Guide
Baltimore: The mecca of sailing in West Cork. Good anchorage but very crowded and not suitable for deep draught vessels (2.5 +)- they should anchor in Sherkin Island almost a mile away. The pontoon for lying alongside has shorepower,water and wi-fi and is run by the energetic, friendly Diarmuid Minihane. It is a two minute stroll to the best pub on the south coast of Ireland - Bushes Bar. Next door is the Jolie Briese pizzeria run by the Jacob family (who also run Jacobs Bar and Chez Youen). There is a bus connection with Skibereen which is only 6 miles up the Ilen River. There are lots of choices for good food and Cotters shop can supply your groceries and Gaz and diesel. Can be a bit of a gluepot! See "In Your Footsteps" Guide
Sherkin Island: This is only one of Carbery's Hundred Isles - all set in the area between Baltimore and Crookhaven - an area about 15M by 4M. Only Sherkin, Cape, Hare and Long Islands are inhabited all year round as well as some of the inner islands which have a bridge connection (Inishbeg and Ringarogy) The islands are a joy to sail to with silver beaches and a wild freedom shared only by seabirds, seals and the odd rabbit! Sherkin has a good marina and a pier as well as a hotel and the Jolly Roger pub. Great for walks and beaches. It is exactly a mile from Baltimore and provides excellent shelter when wind is from the SW, W or NW - especially if Baltimore becomes untenable.
Cape Clear Island: One of the most magical places on the south coast. Ireland's most southerly inhabited spot and only a stones throw from the famous Fastnet Rock. If conditions are from north or settled South Harbour is a great fjord like anchorage. North Harbour or Tra Ciaran is the busy hub of the transport system with ferries coming from Schull and Baltimore. Irish is spoken on the island and there are 3 pubs and a shop. The island has fantastic walks and great views of Roaringwater Bay. See "In Your Footsteps" Guide
Schull: A busy village with great shopping. The pier has water to lie alongside but there is a busy fishing fleet. Very popular with sailors during the summer. Home of the great Calves Week. Lots of pubs - a great school which teaches sailing as part of the school programme! See "In Your Footsteps" Guide
Crookhaven: Last stop before the corner! Just 7 miles from the Mizen it is a lively village with 3 pubs, a shop and a choice of eating places. O' Sullivans Bar is the spot - great for fresh shrimps! Lively dinghy sailing club, beaches, walks, county council moorings and a village pontoon for tenders. See "In Your Footsteps" Guide